A campaign shot from the ThredUP x Olivia Wilde & Conscious Commerce 'Choose Used' capsule collection. Olivia Wilde announced today her ThredUP x Olivia Wilde & Conscious Commerce "Choose Used" capsule collection. Her mission: inform the masses on how to reduce the fashion industry's carbon footprint; it is currently the second most polluting industry in the world. Check out 23 photos from the session in the photogallery.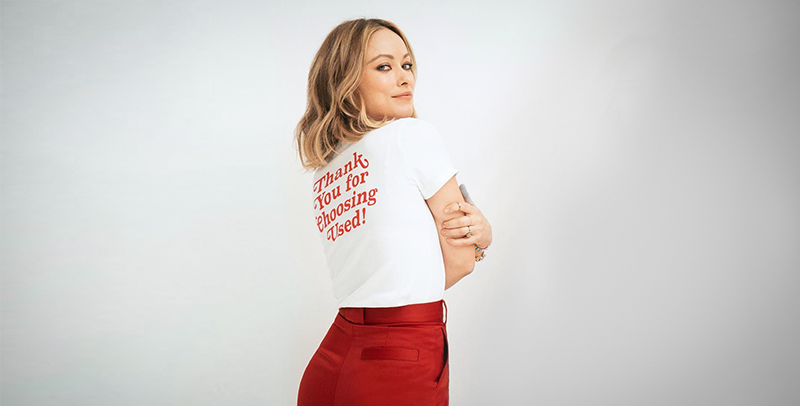 "I love thrifting," Wilde tells The Hollywood Reporter. "Sites like thredUP offer great brands, unique finds, plus the good vibes of upcycling. I'm excited to partner with them to inspire people to consume less and reuse more to combat textile waste and together build a more circular fashion future."
Wilde also noted in a statement: "We found design inspiration for the 'Choose Used' collection with thredUP in our favorite, perfectly broken-in vintage tees. Our aim was to make the designs uplifting because the decision to choose used should be a straightforward and gratifying one." And after having T-shirts, sweatshirts and denim jackets sourced (as well as enamel pins created), Wilde, Babs Burchfield (who co-founded Conscious Commerce with the actress) and online thrift store thredUp are more than 4,000 garments closer to reducing textile waste. The line of repurposed vintage pieces ranges in sizes from XS to 3X; Wilde and Burchfield reinvented the secondhand styles by adding phrases such as, "I Wear Used Clothes," "Used Goods" and "Thank You for Choosing Used!" wherever possible. A portion of the proceeds from each collection item will benefit thredUP's Circular Fashion Fund, established to help designers who are focused on sustainability. The collection will continue throughout the spring and summer seasons.