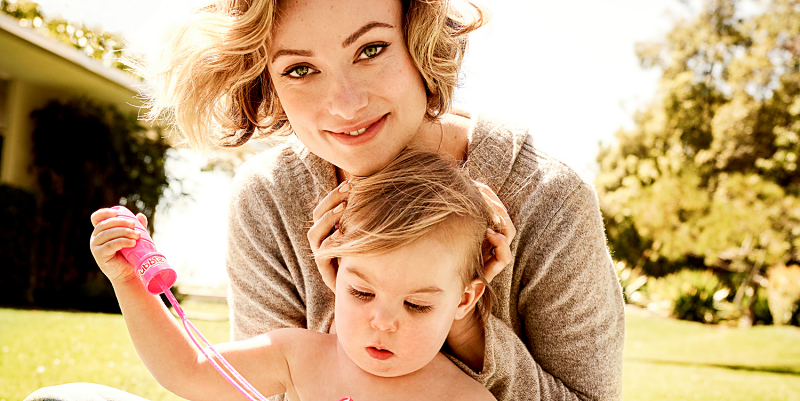 Olivia is featured People's latest edition of "The Beautiful Issue" with Daisy. The article features a photo from a brand new awesome photoshoot. See the full sized high quality photo by clicking on the photo above. Take a look at the screencaps from the interview & behind the scenes of the photoshoot below, watch the full video here and read part of the article from People's website also below. Update: We also added the magazine scan.





Watch the Video
Olivia Wilde didn't just switch over to natural skincare for her own sake. She did it for her kids, too.
"I never like putting something on my skin that I couldn't then smoosh faces with my kids. I was always like, 'Oh no, I just put on this weird acid on my skin for whatever dumb reason and now I'm avoiding my son … My son is trying to kiss me and I'm strong-arming him.' That's an awful feeling."
Now as the chief brand activist of natural skincare brand True Botanicals, she never has to worry about her beauty products interfering with cuddle sessions with son Otis, 4 on Friday, and daughter Daisy, 18 months, ever again.
"I love that I can wash my face and put on the oil or whatever it is and not have to worry. They could actually, like, lick your cheek and it's completely fine."
Since changing up her skincare routine, Wilde says her complexion has never looked better.
"It's much more glowy and it just feels healthier and clearer. And honestly, I think fine lines and wrinkles — I know it sounds so lame because I'm not ancient — but still in your early 30s you start to see things. I have noticed less of them while using True Botanicals, especially with like my eyes and my skin texture. Your skin drinks it up."
And now, she can't imagine ever going back to her old non-natural lifestyle. "If someone uses something on my skin that isn't natural, I can feel it right away," Wilde says.
In her new role, she's also learned a bit about how to have the most success with your skincare regimen.
"One piece of advice I would give for people who are thinking about overhauling their skincare game is you have to give it time. You have to give your skin a moment to reset because so often people try something once and the results aren't immediate and they'll give up on it."