Both of Olivia Wilde's parents were Washington, D.C., journalists, so it should be no surprise that the actress is passionate about her politics, even when it comes to the politics of "natural" beauty. After being the face of Revlon, Wilde's newest gig is being chief brand activist for True Botanicals, a "natural" beauty line that Unilever acquired a minority stake in last month. The Cut talked to Wilde and Christina Mace-Turner and Hillary Peterson, True Botanicals' co-founders, about how politics affects "natural" beauty regulation, its surprising clinical results compared to La Mer, and the "shit" she got about her #NoMelaniaHair hashtag.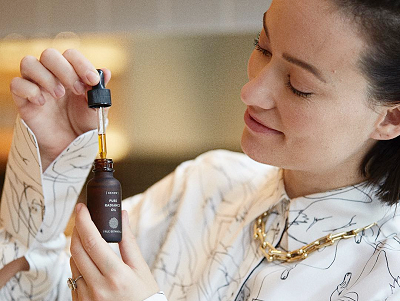 So you were with Revlon for many years and now you're the chief brand activist of True Botanicals. How did that happen?

OW: I'm very proud of that title. It means my partnership goes beyond just being the face, in being a partner and telling the story in different creative ways. I'm looking forward to helping consumers understand not only the products themselves and the experience in using them, but how they're made, the supply chain, the ingredients, down to the packaging. If you're the face of the brand, it's not really even asked of you. They don't expect you to have an interest in any of those things. It's an entirely different experience.

With Revlon, it wasn't jumping ship from one to the other. My relationship with Revlon ended in an organic, peaceful way. It was a fascinating experience to be part of a large brand. I learned a lot about the beauty industry through it. There was that space in between where I thought, I don't know if I will do anything like that again. I was even interested in creating something myself. I thought I was going to have to create a True Botanicals.